This Vintage Charm Bracelet is a Wonderful Gift for a Cocktail Waitress
This lovely vintage charm bracelet features enamled martinis, Manhattans, tropic drinks and more, with an easy close magnetic clasp. It's a nice longer length at 8 inches,too. So colorful and unique!
Charm bracelets have been popular since ancient times. The types of charms reflected the times. For example, in Ancient Rome Christians used the ichthys (fish) symbol as a charm to identify themselves. During the Middle Ages, knights wore amulets and charms for protection. Queen Victoria revived the popularity of charms during her reign. Lockets, pendants, and charms were worn as decorative jewelry. Many of them had engraved family crests.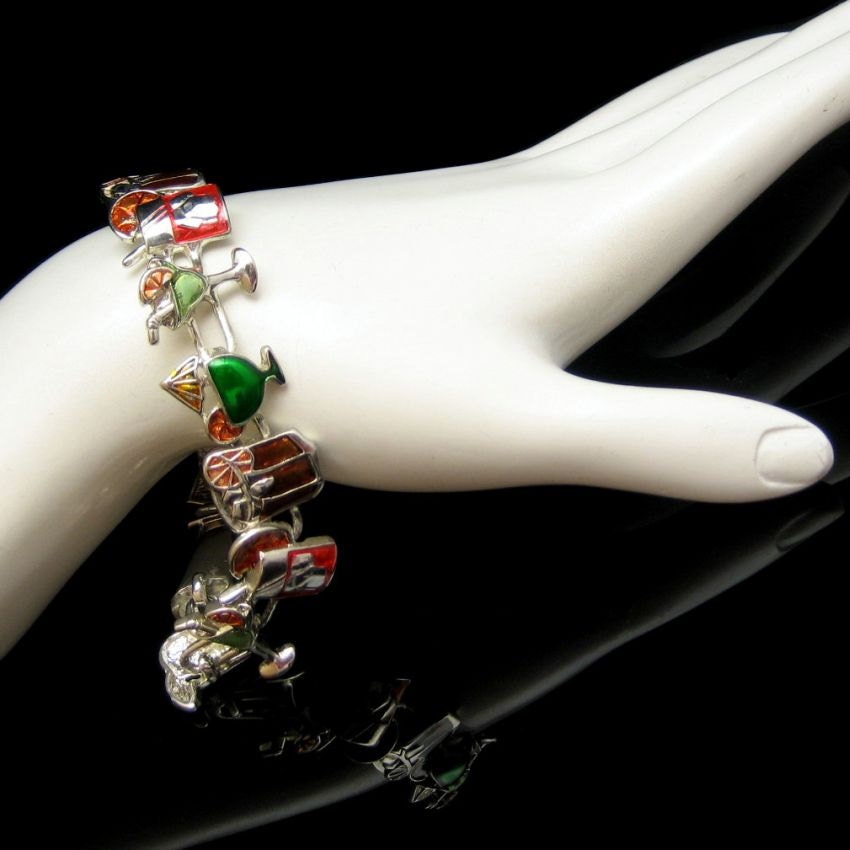 During World War II soldiers brought back little metal charms as souvenirs. These were made by the local artisans where the soldiers served. This created another wave of popularity for the charm bracelet, and jewelry manufacturers were quick to cash in.
In the 1950s and 1960s big, chunky charm bracelets were all the rage. The bracelet chains were very thick and the charms big – the bigger the better. A thick charm bracelet chock full of charms was a real status symbol.
If you are interested in the history of the charm bracelet, here's a great book: Charmed Bracelets by Tracey Zabar
People love to collect vintage charm bracelets and vintage charms – it's quite a passion. Victorian era charms are highly prized, with their romantic themes and symbolism. "Puffy heart" charms with fancy scroll work and nice detail are among the most popular. Enameled travel charms with city or country flags or crests are also very popular.
This particular vintage charm bracelet dates from the 1970s or 1980s and has a fun party theme with its many colorful cocktail drinks. Very charming!
Fabulous Vintage Enamel Cocktail Charms Bracelet, 36.50 USD by My Classic Jewelry