This is Such a Lovely Vintage Cocktail Ring!
I love wearing a vintage cocktail ring. When I don't have time to decide what jewelry to wear, I can quickly slip on a ring and make that my feature jewelry of the day. I usually have one favorite ring that I wear for a period of time, then switch to another.
This particular vintage cocktail ring has a beautiful oval shaped red glass stone. The stone is faceted and throws off a nice sparkle. The clear rhinestones that frame it also have a great sparkle. The gold plated band is a size 7, but can be adjusted slightly for a larger or smaller size.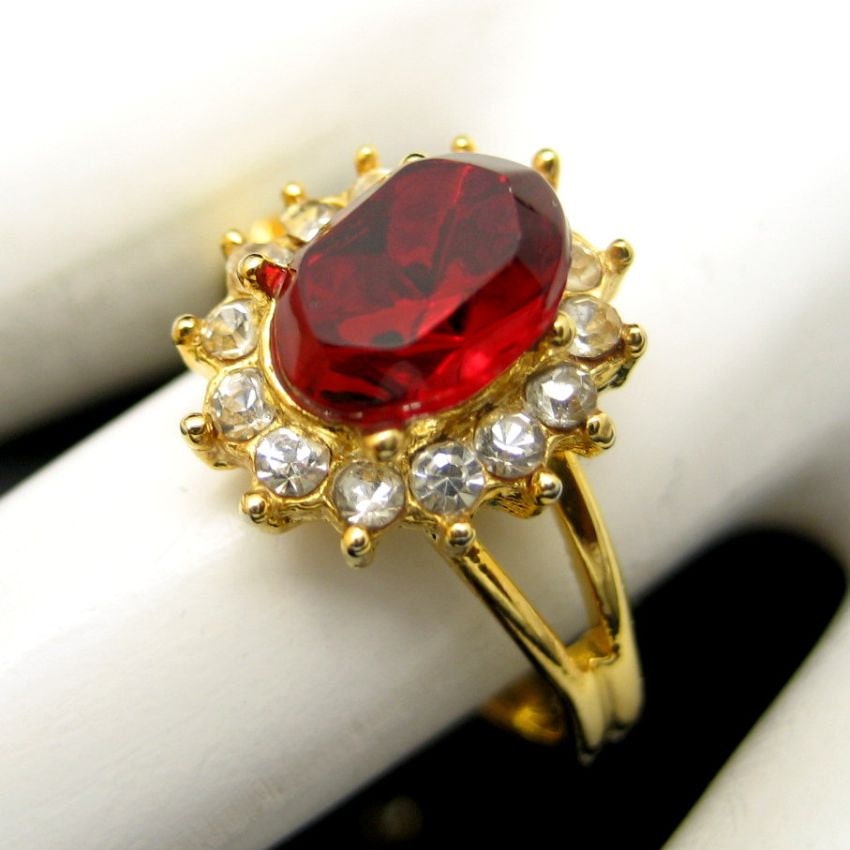 Vintage Red Oval Glass Solitaire Cocktail Ring Rhinestones Size 7 (32.50 USD) by My Classic Jewelry
Symbolism of Wearing Rings
There's a lot of symbolism regarding rings. Throughout the ages, wearing rings on specific fingers have had special meanings. In ancient times people believed that the ring finger (third finger from the thumb) had a special vein that ran directly to the heart. One of the most widely known traditions is to wear the wedding and engagement rings on the left hand ring finger. However, the Eastern Orthodox tradition is to wear them on the right hand.
The index finger (next to the thumb) has long been considered a symbol of authority and power. Hundreds of years ago it was common for men to wear a signet or crest ring on the index finger. In some parts of Europe men were forbidden to wear rings unless they were of a certain rank, as the ring symbolized family status.
The pinky finger doesn't usually have any religious or cultural significance. Since it is the furthest from the body, rings worn on the pinky are very eye-catching. If you want to get attention, wear a great looking vintage cocktail ring on your pinky.
About the Cocktail Ring
The vintage cocktail ring has its origins in the 1920s during Prohibition. Stylish flappers liked to wear large bold rings as they sipped their drinks at the speakeasy. It fit in with the flamboyant style of the times. This custom continued into the 1950s and 1960s when cocktail parties (now legal) were all the rage. Some of the best vintage rings were made during that mid century era, so you'll rarely go wrong choosing a vintage cocktail ring from that time. Women still love to wear big bold rings today – it's a great way to dress up any outfit.
Buy a Vintage Cocktail Ring at My Classic Jewelry on Etsy
Special Styles of the Vintage Cocktail Ring
If you are looking for a great vintage cocktail ring, many styles are available. There are cameos, large single stones (solitaires), multi-stone rings, perfume and/or poison rings, watch rings, and more. Large domed, multi-stone rings with lots of sparkle are especially eye catching.
No matter what type of ring you choose, vintage cocktail ring or new, genuine gemstone or costume jewelry, just choose something you love and wear it with style!
Do you like to wear a vintage cocktail ring? I'd love to hear any comments you have in the Comments section below.
Thanks for visiting! Please come back soon or make it easy – use the signup form in the right sidebar to get automatic updates for this blog. If you prefer using RSS, click the RSS button at the top of this page to get the feed url for your RSS reader.
Christine
Gorgeous Gemstone Cocktail Rings on Amazon!