Check out this Lovely Vintage Sterling Silver Brooch Retro Glass Flower!
Retro jewelry was produced in the 1940s and late 1950s. During the World War II years, base metals were needed for the military, so costume jewelry makers produced a lot of Sterling jewelry, some with Gold Vermeil plating. This is a lovely typical brooch from that era.
Retro brooches were created by top designers, such as Trifari, Coro, Monet, Napier, Mazer, and others. In addition, numerous other companies produced vintage sterling silver brooches in the retro era. Many of these were not signed, only marked "STERLING."
This brooch exhibits influences from the earlier Art Deco era of the 1930s with its geometric design that mixes angular lineswith curves. The center of the brooch has green glass baguettes and the trailing flowers have emerald cut green glass stones. Even after all of these years, the glass sparkles brightly.
What a treasure for the vintage sterling silver brooch collector! I love retro brooches, and this one is very special.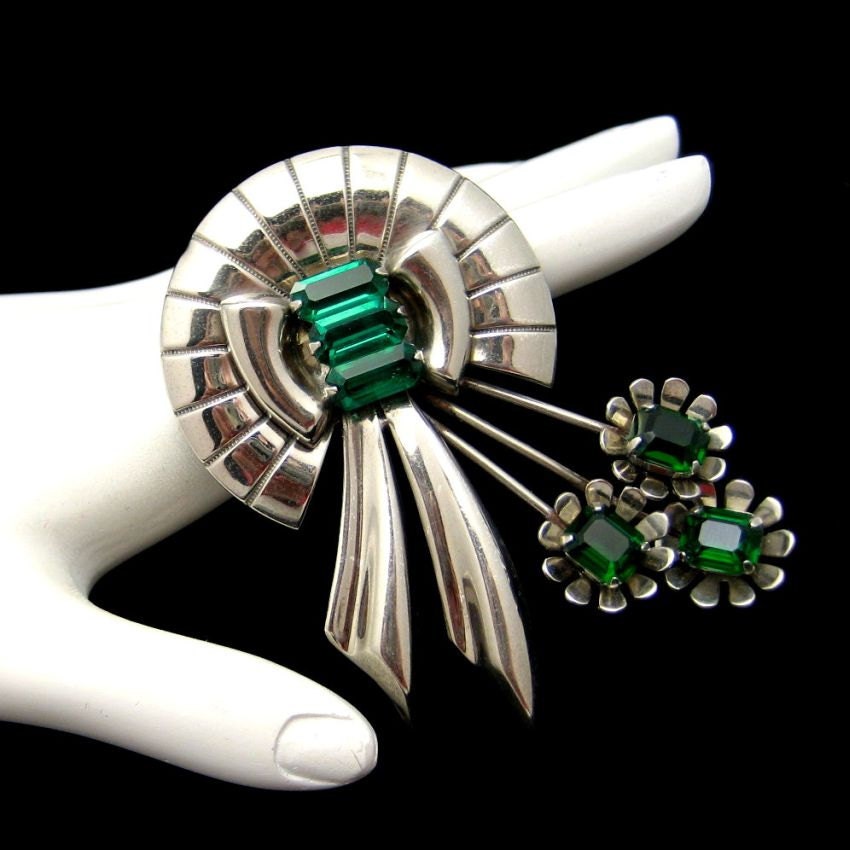 Vintage STERLING Silver Brooch Retro Flower Green Glass Stones, 146.50 USD, by My Classic Jewelry
Post Your Comments!
I'd love to hear from you. Just add your comments below. Christine 🙂